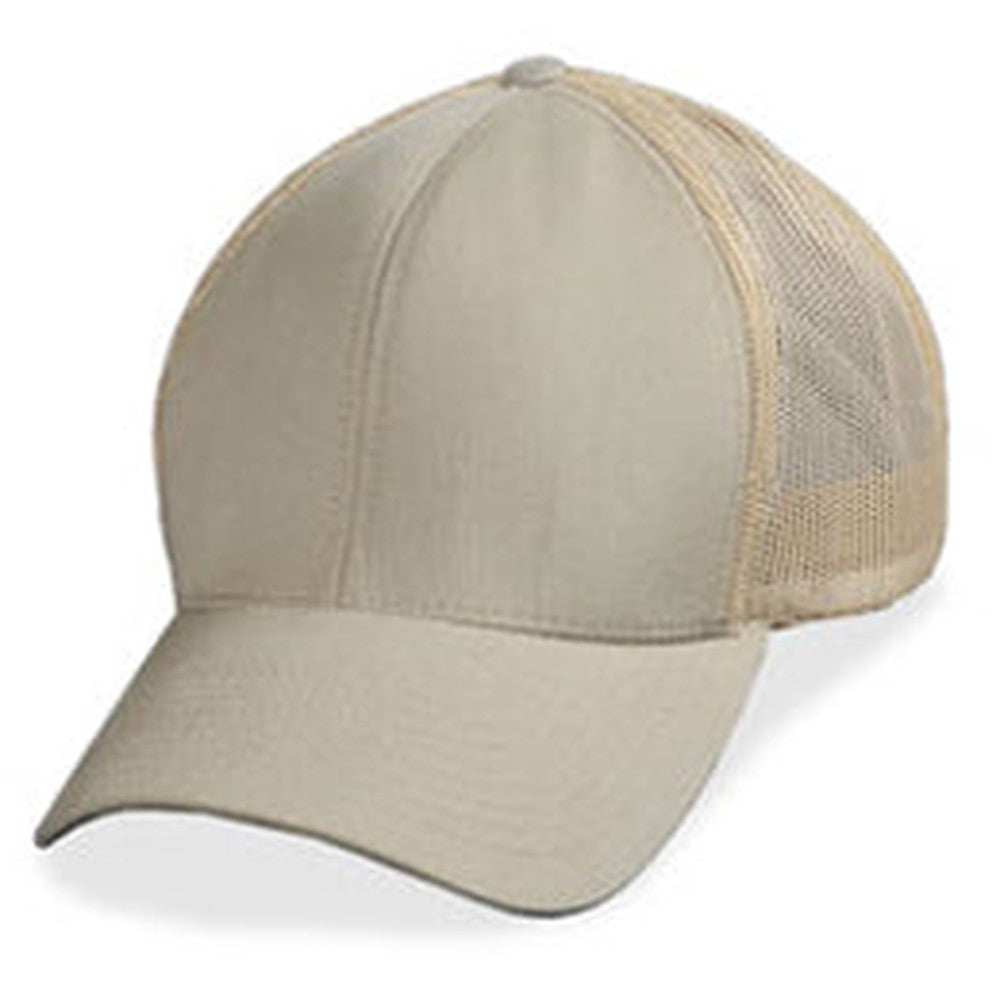 Cream Mesh - Structured Baseball Cap
Keep the heat off your head and feel the cool breeze rolling with this big hat. Great for boating, golf, event watching and other outdoor activities. This structured style is comfortable and lightweight, and offers maximum ventilation. Made of 100% cotton front panels with mesh side and back panels, it also has a thin moisture wicking cotton sweatband on the inside. A plastic tabbed strap in back can adjust for the perfect fit. Our classic trucker hats for big heads will keep your noggin' cool and safe from the sun in the hot and warm weather months.
6 panel structured hat
100% Cotton front panels / mesh back panels
Plastic tabbed adjustment strap
Extra hat depth
Visor is 3" long
Available in Sizes:
3XL (Sizes 7 ½ - 8 ½) - Made in USA
3XL-4XL Model ES-015 - Made in China
4XL (Sizes 8 ¼ - 9 ¼) - Made in USA
Hatz
Good hat no issues so far very confortable
Finally a hat that fits
My head is huge. Finding a hat that fits has been a lifelong challenge. I've tried 2 other companies that said their hats were 4xl, but the hat I purchased from Big Hat Store is a true 4xl. I'm a 8 1/2 to 8 5/8. This hat can adjust up to a 9 1/4. I don't have to wear this hat on the last peg on the adjustable strap or leave it totally unbuttoned as I've tried to do in the past with other hats. My only request would be to make the bib a little wider, so it more comfortably fits my wide forehead.
Love this one, especially!
We ordered another for Christmas and it's perfect but my daughter does not have a light colored cap so I surprised her with this mesh one. She loves it and the fit is perfect. I'm so glad you cater to larger sized heads. Hats are such fun and practical to wear and it's disappointing when traditional sizes prevent everyone from enjoying them equally. Thanks so much. We'll be back, I'm sure.
Love this Cap
Not really a fan of mesh caps. This one won me over. Light weight, cool and comfortable. Will be adding more.